By Anthony G. Williams
With many thanks to Dr. Juan Chulilla for his invaluable work in re-establishing this website

I have long been interested in military ammunition and the guns that use it, both historic and current, from pistols to artillery. I was Editor of The Cartridge Researcher, the journal of the European Cartridge Research Association, for over fifteen years, and also an Editor of Jane's Ammunition Handbook / Jane's Weapons: Ammunition for thirteen years. I am the author or co-author of several books about military weapons which all feature detailed coverage of the ammunition as well as the guns. My latest book is Autocannon: a history of automatic cannon and their ammunition. More details of these books follow.
This website provides a resource for those interested in this subject, with data tables on ammunition plus ultimately many photographs to help with identification of cartridges, and articles on this subject. This is a work in progress, and will be expanded from time to time.
---
Autocannon
Autocannon is a comprehensive history of the development of automatic cannon and their ammunition from the end of the nineteenth century up to the present day. A brief history of their development is followed by sections examining the basic principles of gun and ammunition design, including various unconventional systems. Next comes a survey of cartridges in calibre order, from 20mm to 57mm, including not only ammunition that has seen service but also a wide range of experimental types. Finally, there is a survey of the cannon, grouped by nationality, which again includes many experimental models. The book includes data on about 200 different cartridges and 400 cannon, and has nearly 500 illustrations. It is the culmination of decades of research, and is unmatched in its coverage of the subject. It was published in 2022. The book cover and a few sample pages are shown below, plus a page concerning amendments to the book. Details of my other books follow.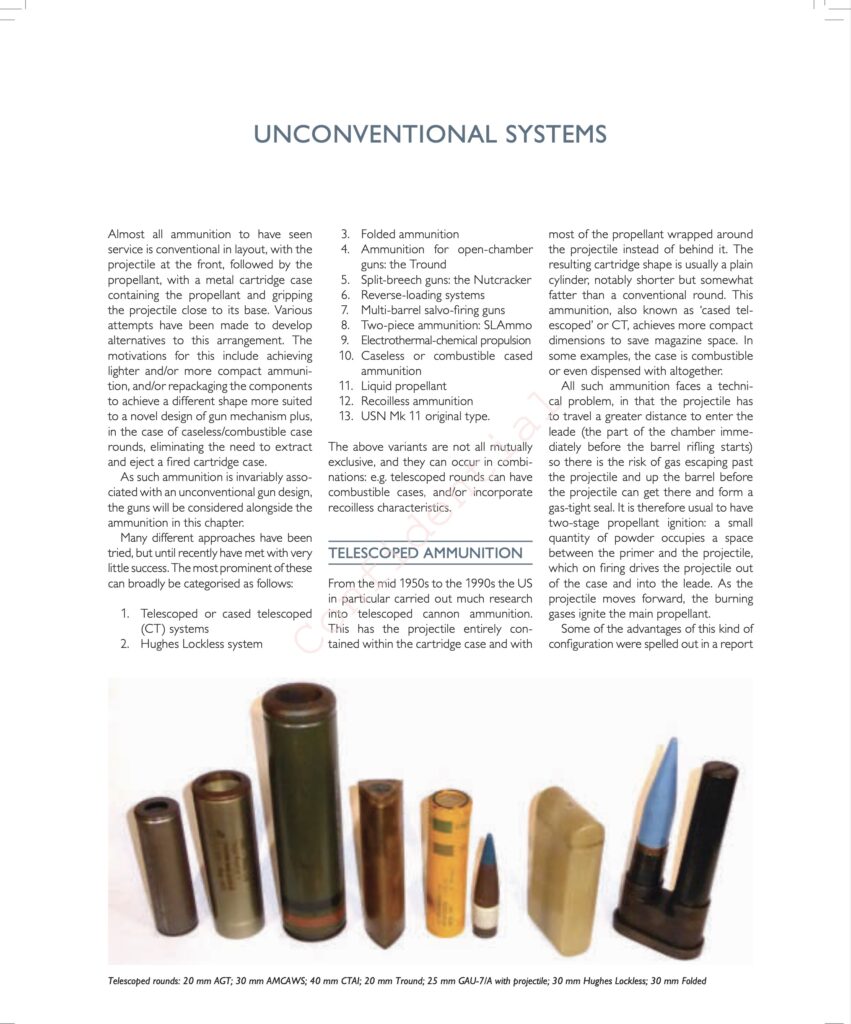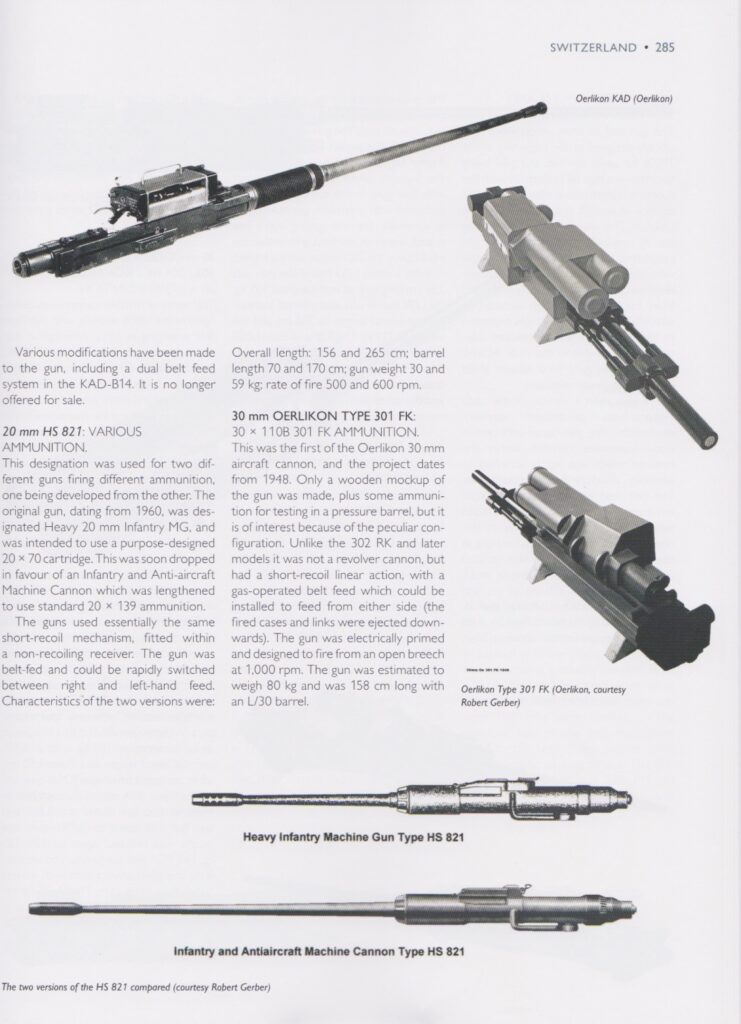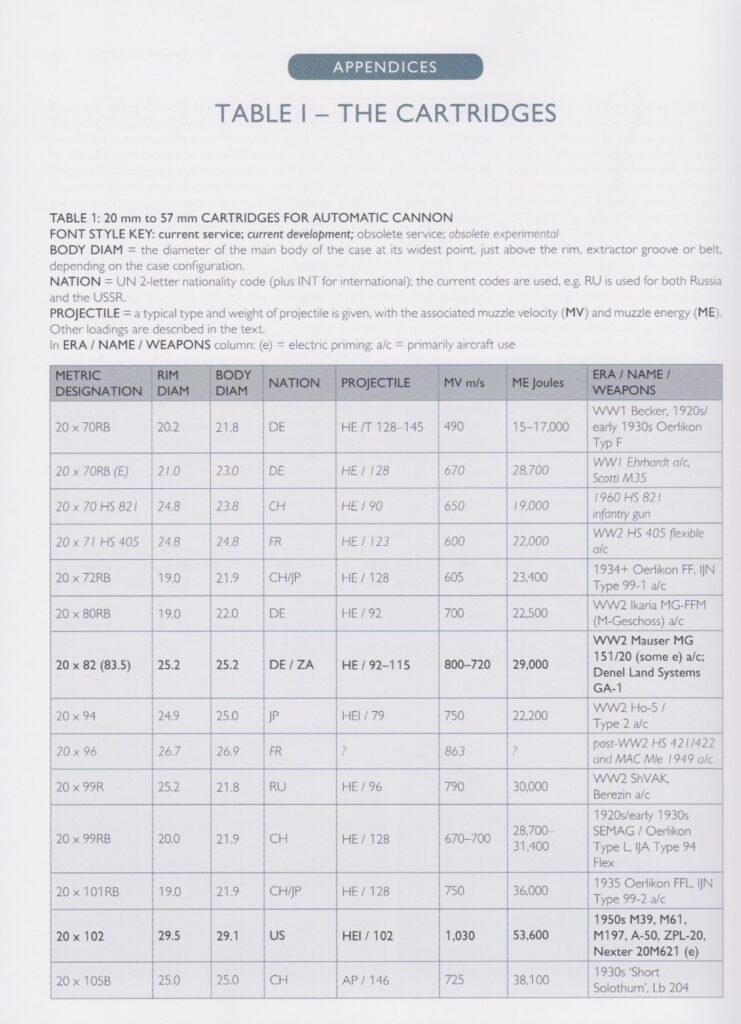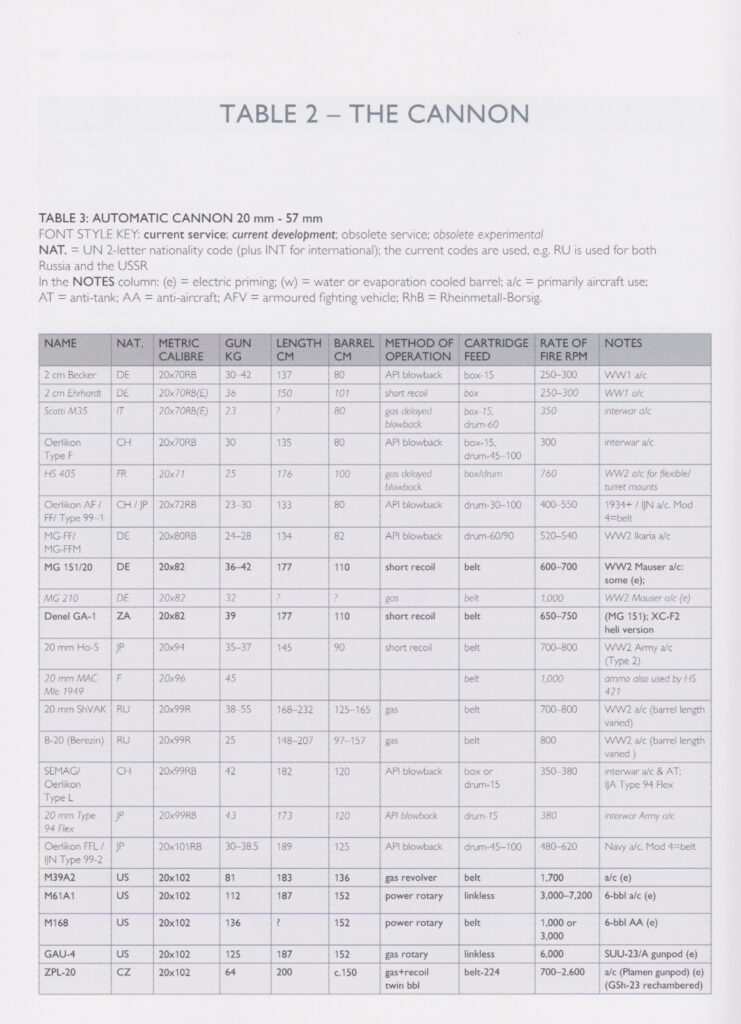 ---
Amendments to Autocannon (as of June 2023)
Page 41 – Photo caption: Delete entire caption and replace with: "Nexter 30M781 fitted to Tigre attack helicopter."
Page 104 – photo caption missing. Should be "40 mm Ho-301 round".
Page 113 – a typo in the photo caption: "Robert Berger" should be "Robert Gerber" (also page 279). With apologies to Robert.
Page 134, the image "27x145B in DM63 FAPDS loading' should be credited to Dominique Milet de St.Aubin (with apologies to Dominique)
Page 135 photo caption – "(Woodin Laboratory)"
Cannon section: the use of italic headings to show experimental guns is applied inconsistently. The following names should be in italics unless stated otherwise:
Page 175 – 40 mm NORINCO CTAS
Page 186 – HOTCHKISS 37 mm
Page 186 – HOTCHKISS 25 mm should NOT be in italics
Page 189 – 9CG SERIES
Page 191 – GIAT/NEXTER 30M791 should NOT be in italics
Page 191 – GIAT/NEXTER 25M811 should NOT be in italics
Page 196 – 2 cm EHRHARDT FLZK
Page 231 – 20 mm M1938 MODEL C
Page 231 – 20 mm M1938 MODEL D
Page 285 – 30 mm OERLIKON TYPE 301 FK
Page 345 – ASP-30 COMBAT SUPPORT WEAPON
---
Other Books:
A Primer on Cartridges
Basic Ballistics
Assault Rifles & Their Ammunition: A Brief History
Historic Machine Gun Cartridges
The Case For A General Purpose Rifle & Machine Gun Cartridge
Cartridges For Long Range Sniping Rifles
Future Small Arms Ammunition Design: Bullet Shape & Barrel Length
The White Rifles
Cartridges For Silenced Sniping Rifles
Where Now For Personal Defence Weapons?
Glossary & Abbreviations
Index
Bibliography and References
(published 2020)
Sub-Machine Gun
Part 1: Historical Summary; Gun Design; Ammunition Design; The Cartridges; The Future of the SMG and the PDW Debate
Part 2: National Programmes – details of SMG developments in 37 countries
Appendices: Sub-Machine Gun Ammunition; Glossary; Conversion Factors; Bibliography and Sources.
(Published 2011)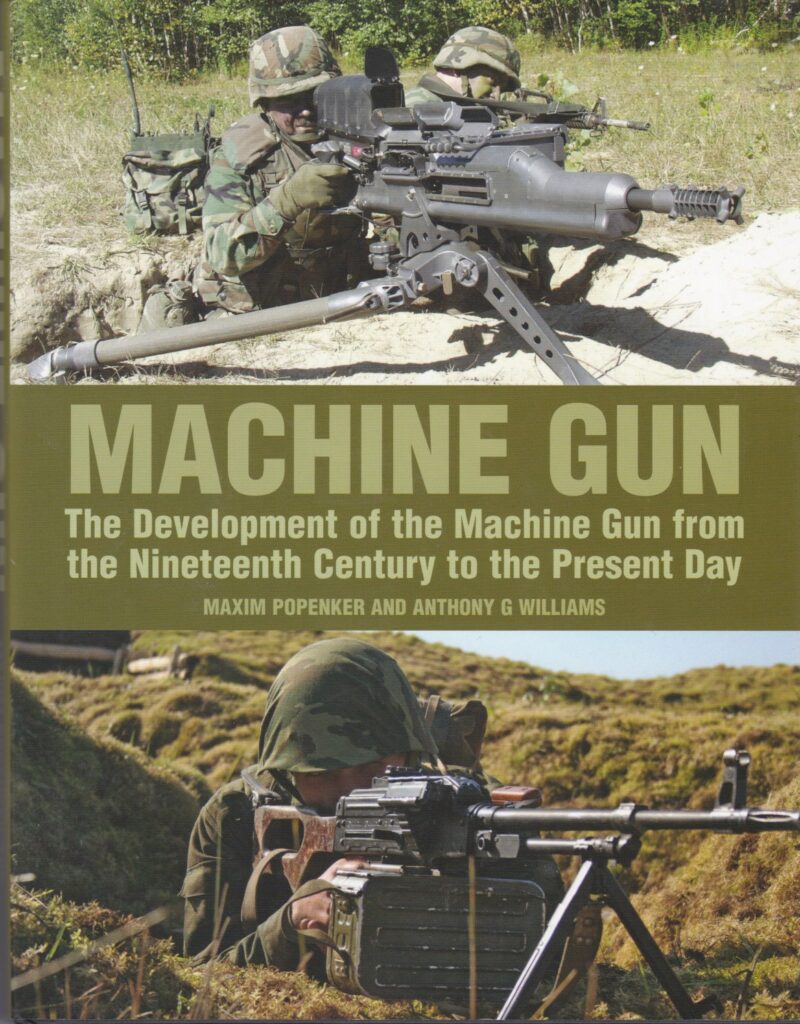 Machine Gun
Part 1: Historical Summary; Ammunition; Gun Design; Special Purpose Guns; Grenade Machine Guns; The Future
Part 2: National Programmes – details of the MG development history in twenty countries;
Appendices: MGs, Ammunition; Ammunition Belts; Conversion Factors; Glossary; Bibliography and Sources
(Published 2008)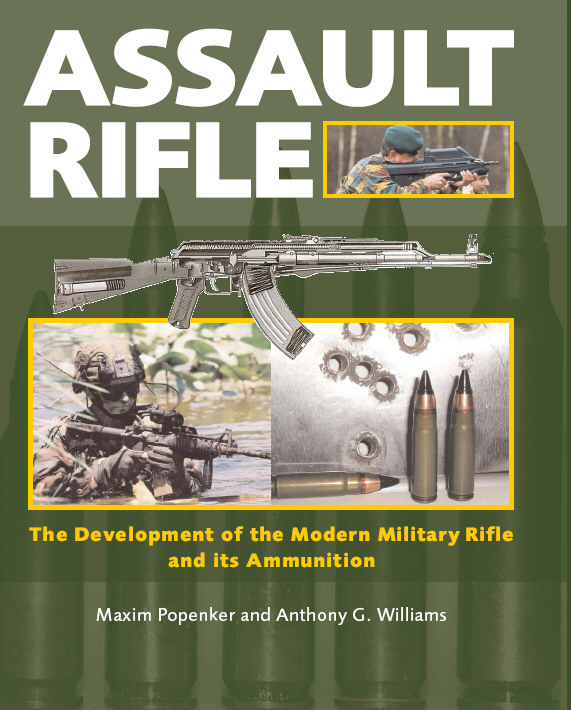 Assault Rifle
Part 1: Introduction; Assault Rifles – a Brief History; Technical Background – The Weapons; Technical Background – Ammunition Design and Ballistics; The Development of the Assault Rifle Cartridge
Part 2: The Weapons – details of assault rifle development history in 26 nations.
Appendices: Military small-arms cartridges; Glossary, Bibliography
(Published 2004)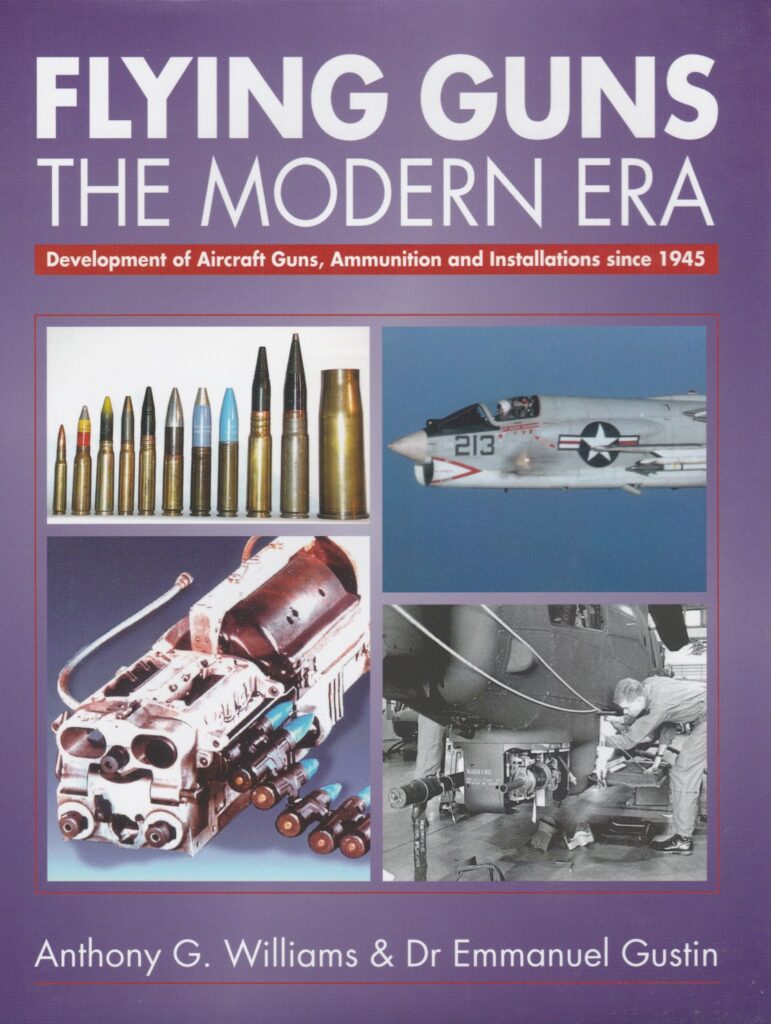 Flying Guns: the Modern Era
Chapter 1: Technical Developments
Chapter 2: Early Jets
Chapter 3: The Missile Era
Chapter 4: Experience in Combat 1 – Korea and Vietnam
Chapter 5: Experience in Combat 2 – The East and the South Atlantic
Chapter 6: Helicopters Go To War
Chapter 7: Trends and Prospects
Appendices: Installation Tables; Cartridges Used in Aircraft Guns 1945-2000+; Aircraft Guns 1945-2000+; Comparative Drawings of Modern Aircraft Guns; Projectile Colours; Modern Fighter Gun Effectiveness; Glossary; Bibliography
(Published 2004)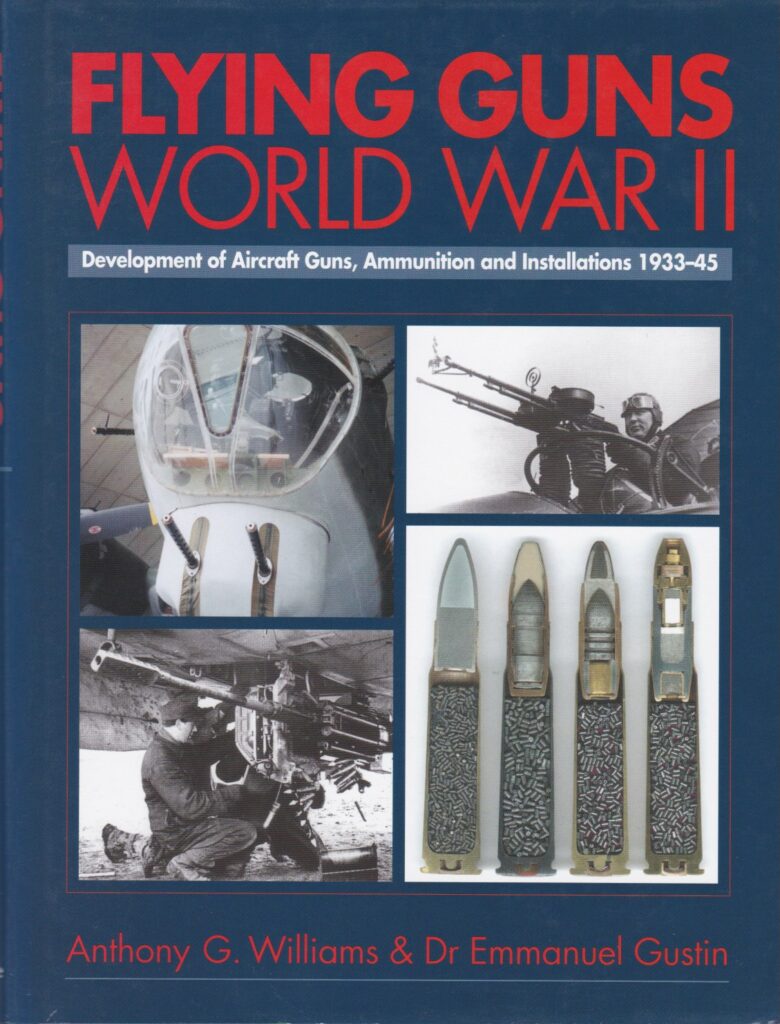 Flying Guns World War 2
Chapter 1: Technical Developments
Chapter 2 : Preparing for War
Chapter 3: Early Fighting
Chapter 4: Eastern Front
Chapter 5: Ground Attack
Chapter 6: American Arsenal
Chapter 7: Japan's War
Chapter 8: Maritime Battles
Chapter 9: The Bomber War
Afterword
Appendices: Installation Table; Ammunition Table; Gun Table; Comparative Drawings of WW2 Aircraft Guns; Projectile Colours; Fighter Gun Effectiveness; Glossary; Bibliography
(Published 2003)
Flying Guns: World War 1
Chapter 1: Technical Developments
Chapter 2: Pre-War Experiments and WW1
Chapter 3: Aircraft Cannon Development and Use 1914-1932
Chapter 4: Absorbing the Lessons: Aviation to 1932
Appendices: Installation Table; Ammunition Data Table; Gun Data Table; Gun Drawings; Glossary; Bibliography
(published 2003)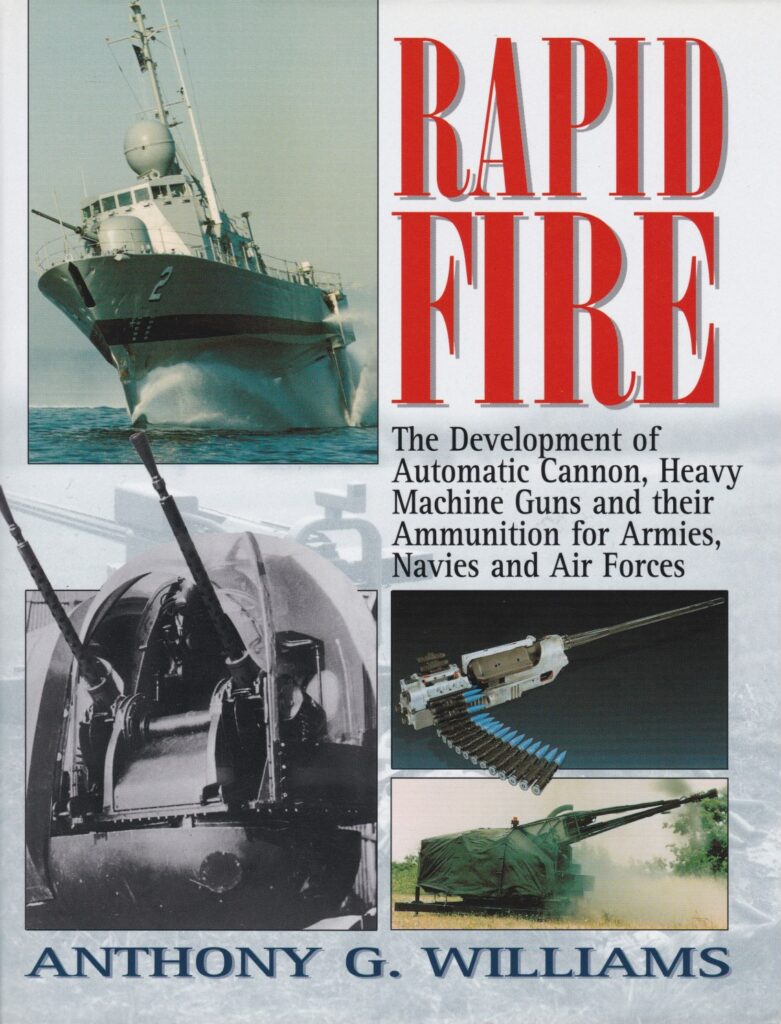 Rapid Fire: The Development of Automatic Cannon, Heavy Machine Guns and their Ammunition for Armies, Navies and Air Forces
Chapter 1: The Cartridge
Chapter 2: The Guns
Chapter 3: Army Weapons
Chapter 4: Naval Guns
Chapter 5: Weapons for Air Fighting
Chapter 6: The Future
Appendix 1: Anti-Tank and Modern Heavy Rifles
Appendix 2: Data Tables – Cartridges used in Automatic Weapons 11.35mm – 57mm; Miscellaneous Military Cartridges; Service Heavy Automatic Weapons 11.35-57mm; Other Heavy Automatic Weapons; Anti-tank and Current Heavy Rifles; Selected Rifle Calibre Machine Guns
Appendix 3: Comparative Scale Drawings of Cartridges
Glossary; Sources
(published 2000)